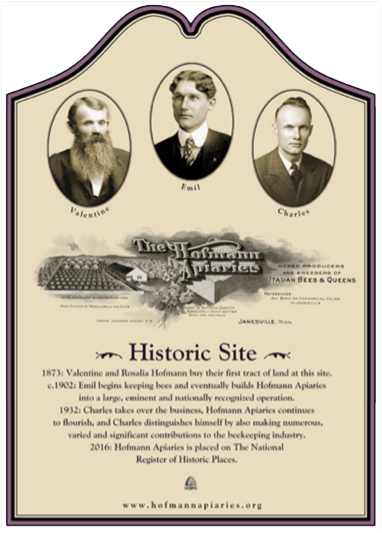 A History of Hofmann Farm and Hofmann Apiaries

Around the turn of the Century Charles' father, Emil, saw a swarm of honey bees that had made a temporary landing on a bush close to his house. He quickly fashioned a temporary hive for the bees, and in they crawled. At that moment he unwittingly began a career as a beekeeper. He built a business he called The Hofmann Apiaries into a very large, efficient and successful operation that became known locally and nationally. He ran the business until his untimely death in 1934, whereupon Charles took over and operated The Hofmann Apiaries until he retired in 1985.
In 2016 Hofmann Apiaries was designated an historic site and placed on The National Register of Historic Places. You can read the history in the following pages, or visit the dedicated Hofmann Apiaries website which has the same document plus much more.

The first record of the land called Hofmann Farm by its present owners is the Bounty Land Patent dated November 1, 1859, and signed by President James Buchanan granting 160 acres to one Joseph Crown for his service in the war with Mexico (figure 1). The first 40 acres of Hofmann Farm was purchased by Valentine Hofmann in 1873 from the third owner of this parcel, Edward Prouty.

Valentine Hofmann was born February 13, 1846, in Moravia, a region of Central Europe. He immigrated to the United States, likely from Bohemia, sometime in 1871. Quoting from an autobiography written by his grandson Charles Hofmann:
"Friends living near Elysian who had preceded Valentine to America had urged him to come to Minnesota. So he came, traveling to Minnesota by train and getting off at Janesville, which then was almost as far as the line went.

"At that time no roads worthy of the name existed, and most travel was by heavy wagons or carts pulled by ox or horse teams. Few, however, could afford such conveniences, and as early settlers had little or no occasion to travel anywhere except between their homes and trading centers, much travel was by foot. After spending a few days in Janesville, Valentine shouldered his baggage and started out on foot through the heavy virgin woods along the east shore of Lake Elysian, with the village of Elysian his destination.* Elysian was located on the north shore of the lake, seven miles distant. The lake guided his direction, but as there was not even a foot path to follow it took an entire day to make the journey. Fallen trees, underbrush, and depressions filled with water meant continual detours from the direct course, which added to the distance he needed to travel. At twilight he finally came upon the little cluster of log cabins that marked the town of Elysian."

* At the time of Valentine's arrival, the town now named Elysian was called Logan, platted in 1857. The name was changed to Elysian in 1883; the name of the lake was originally Okaman Lake and was changed to Lake Elysian at the same time. Valentine would have passed within a mile of the land he was to purchase a couple of years later on his walk along the eastern edge of Okaman Lake.